Hi, this is a map remastered I made a time ago. It's a clean map with some custom textures, good for gang hood Roleplay. It is located in Willowfield near Stacked.
PS: The .rar attach files contain the code and the .db file if you are interested in changing textures or mapping in texture-studio.
• The map keep the vanilla (original gta sa) aspect;
• Good for Roleplay servers;
• The draw distance is 300.0 default, but you can change it and I recommend for a better experience.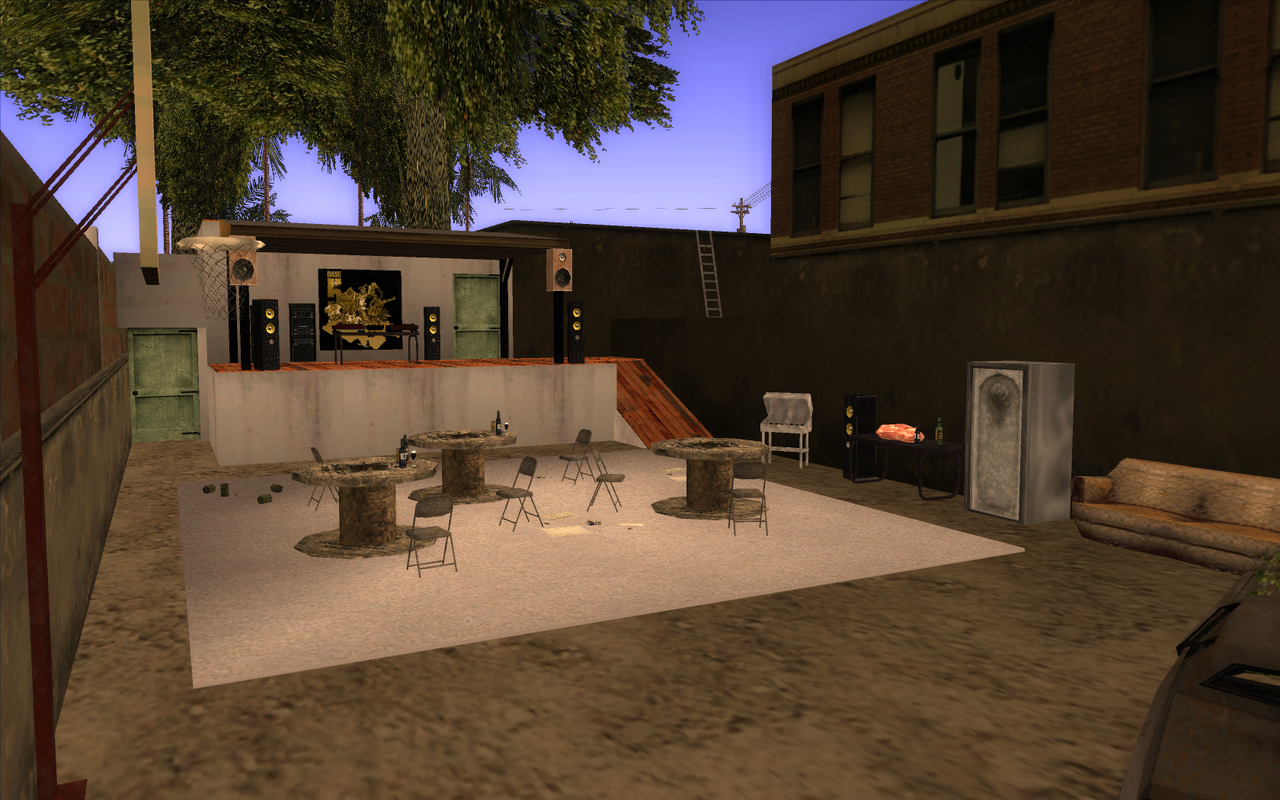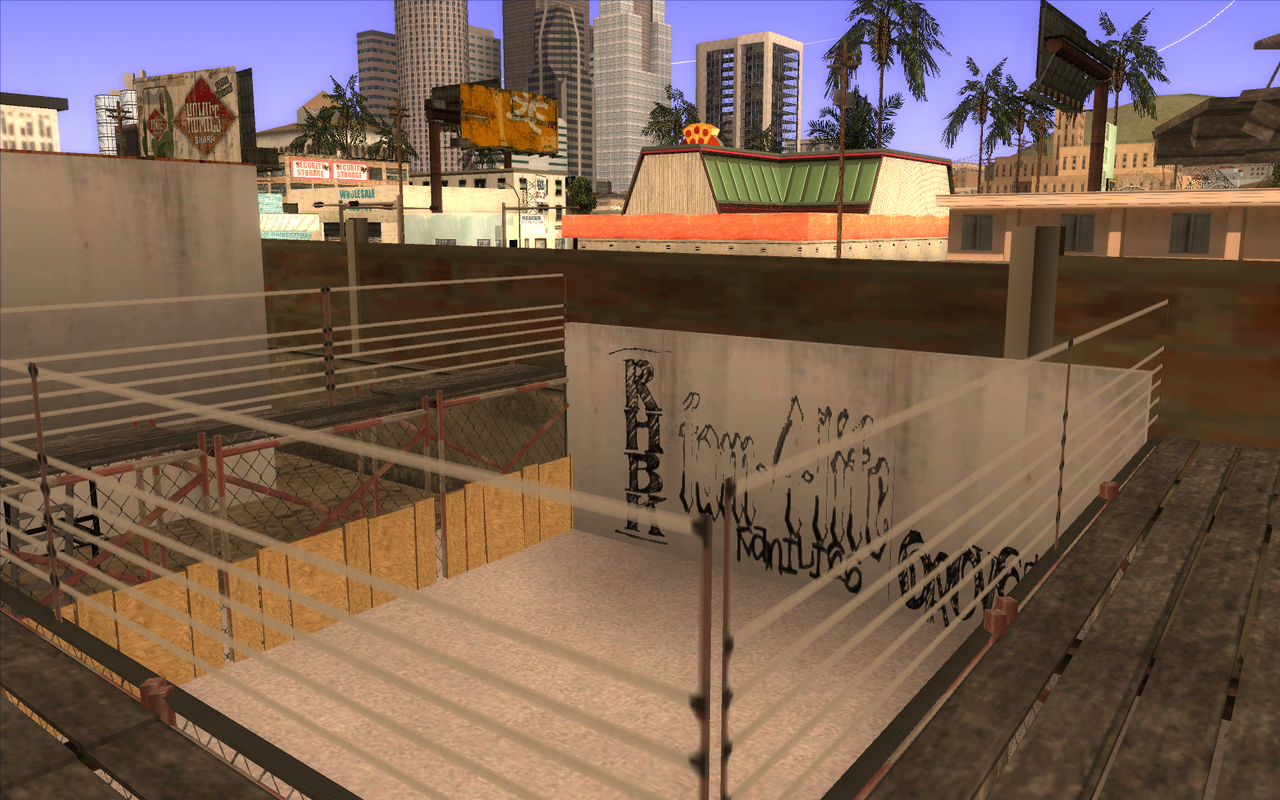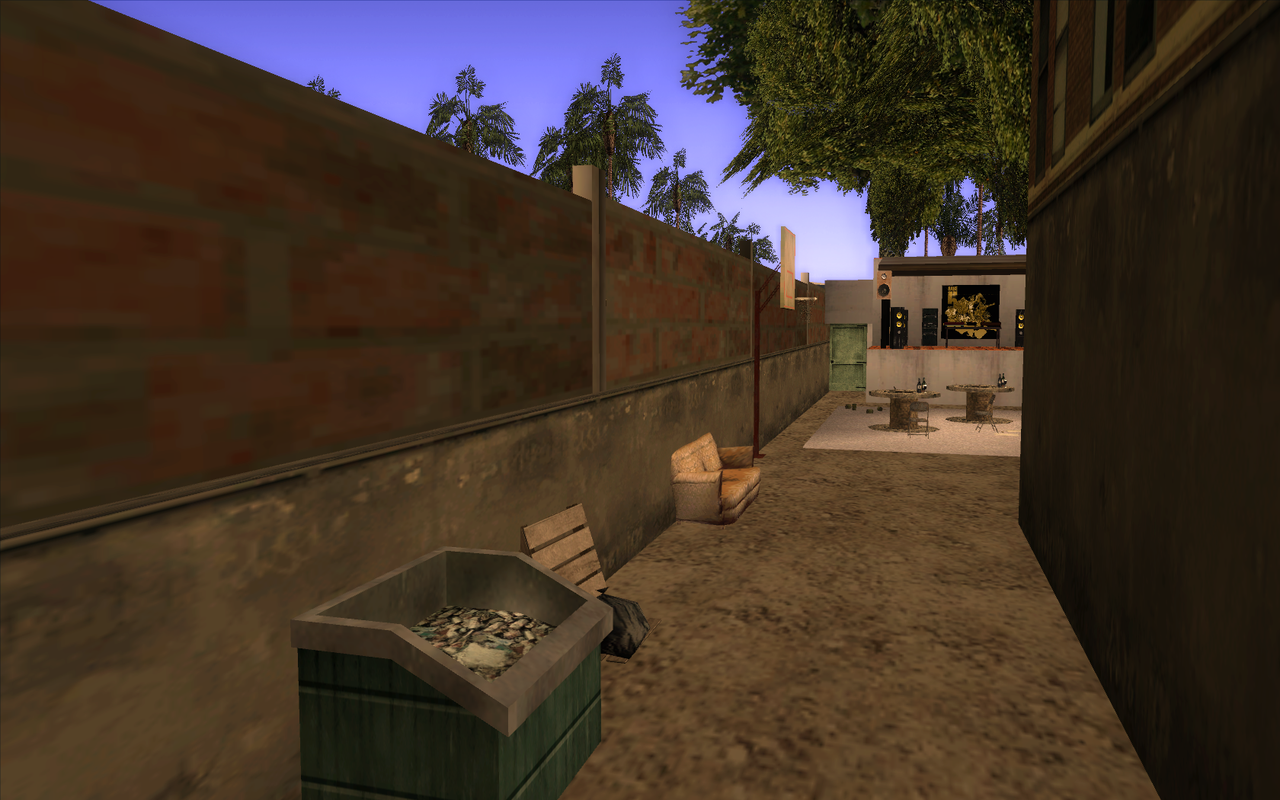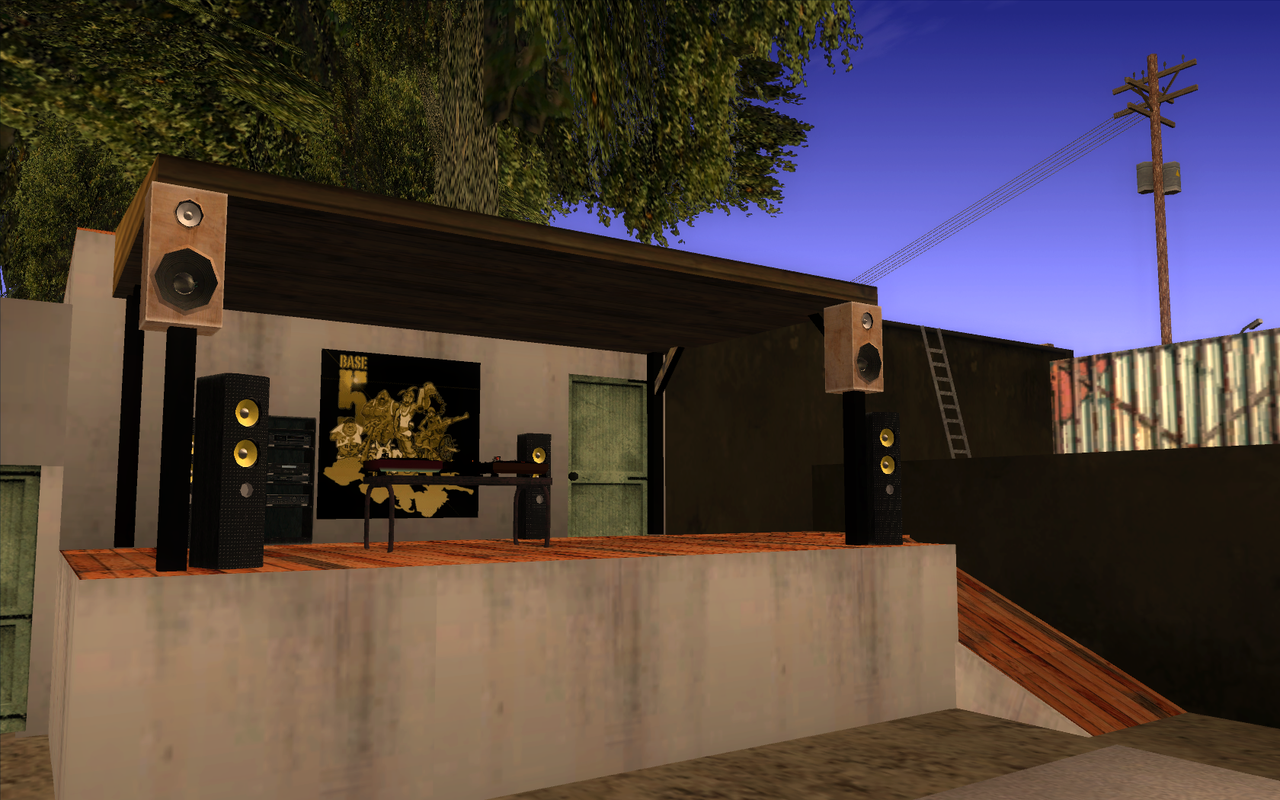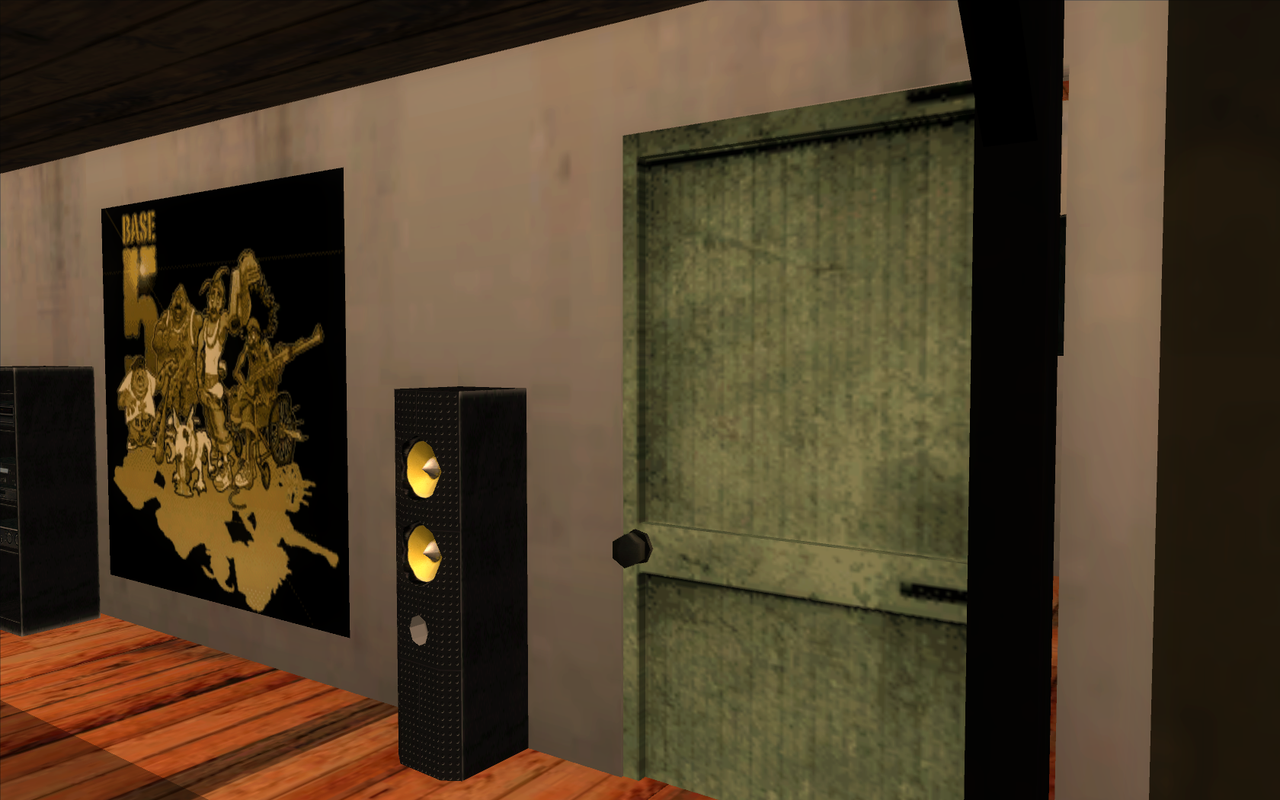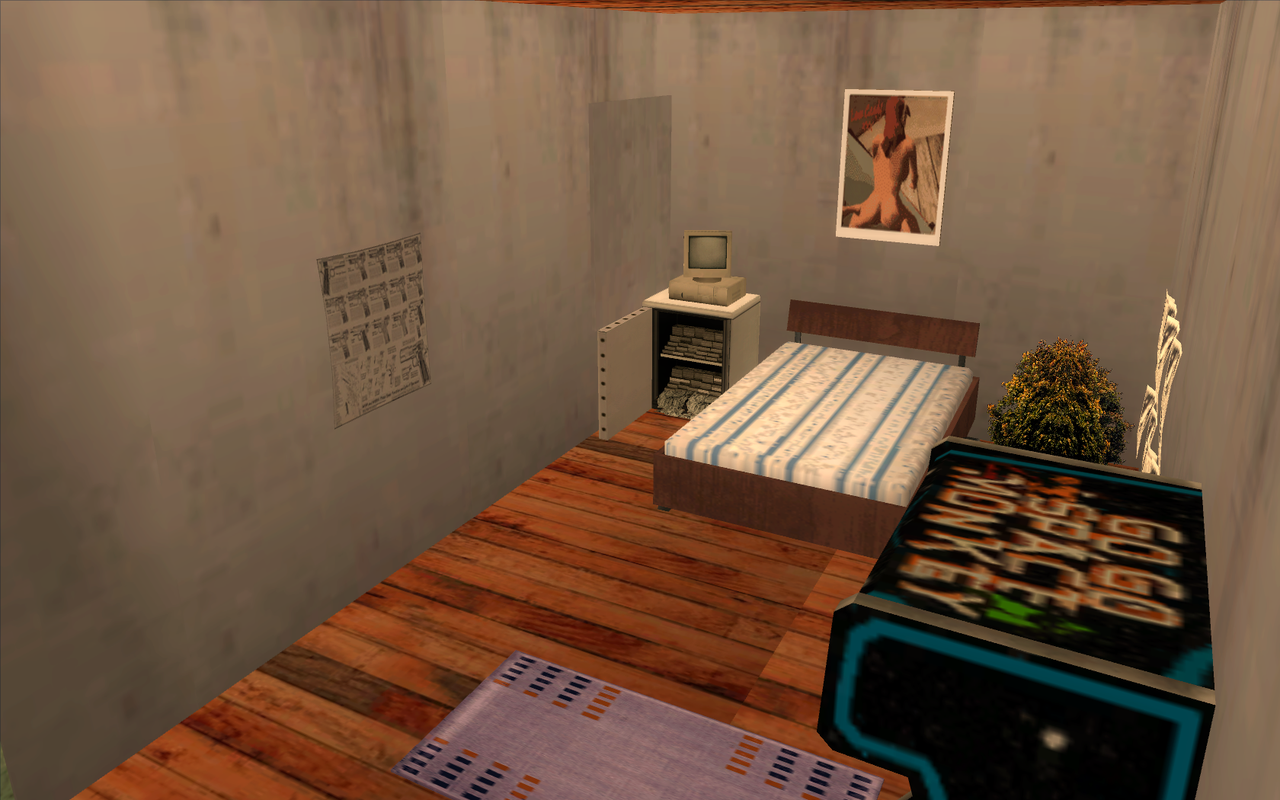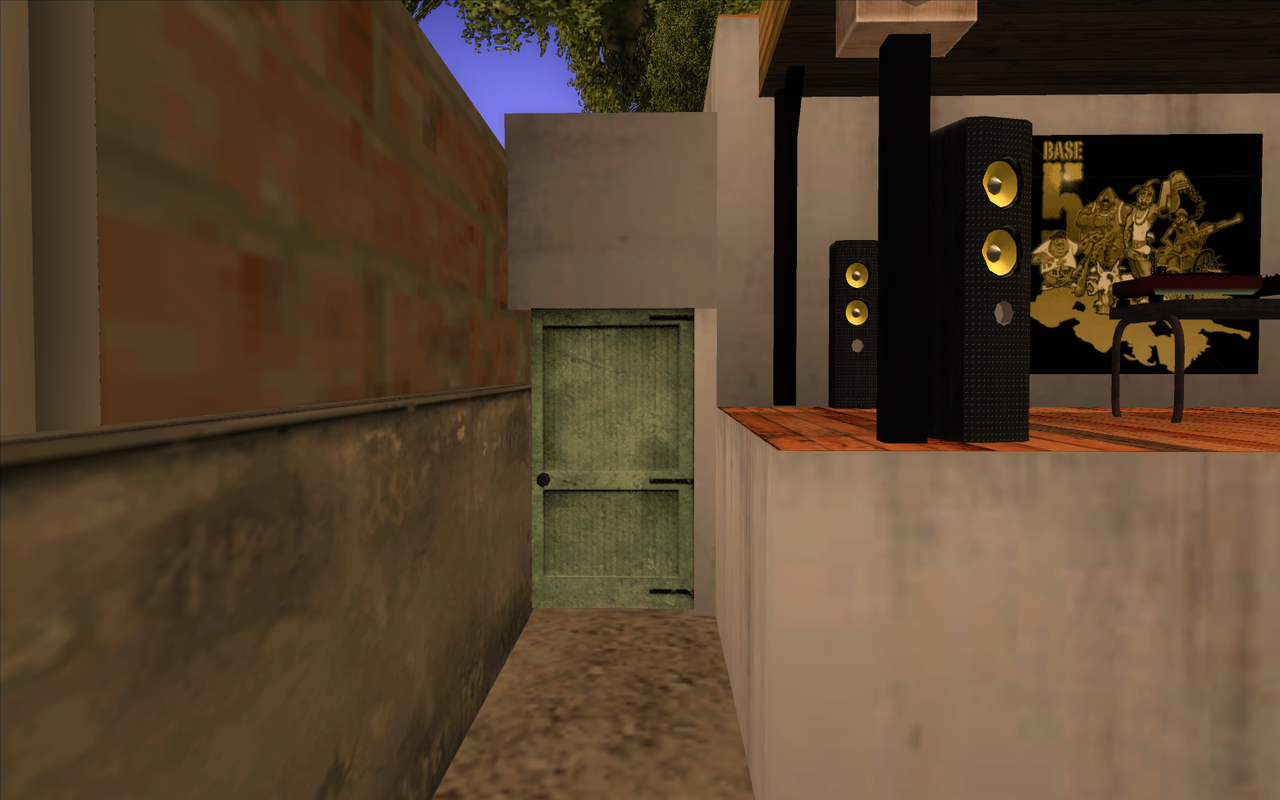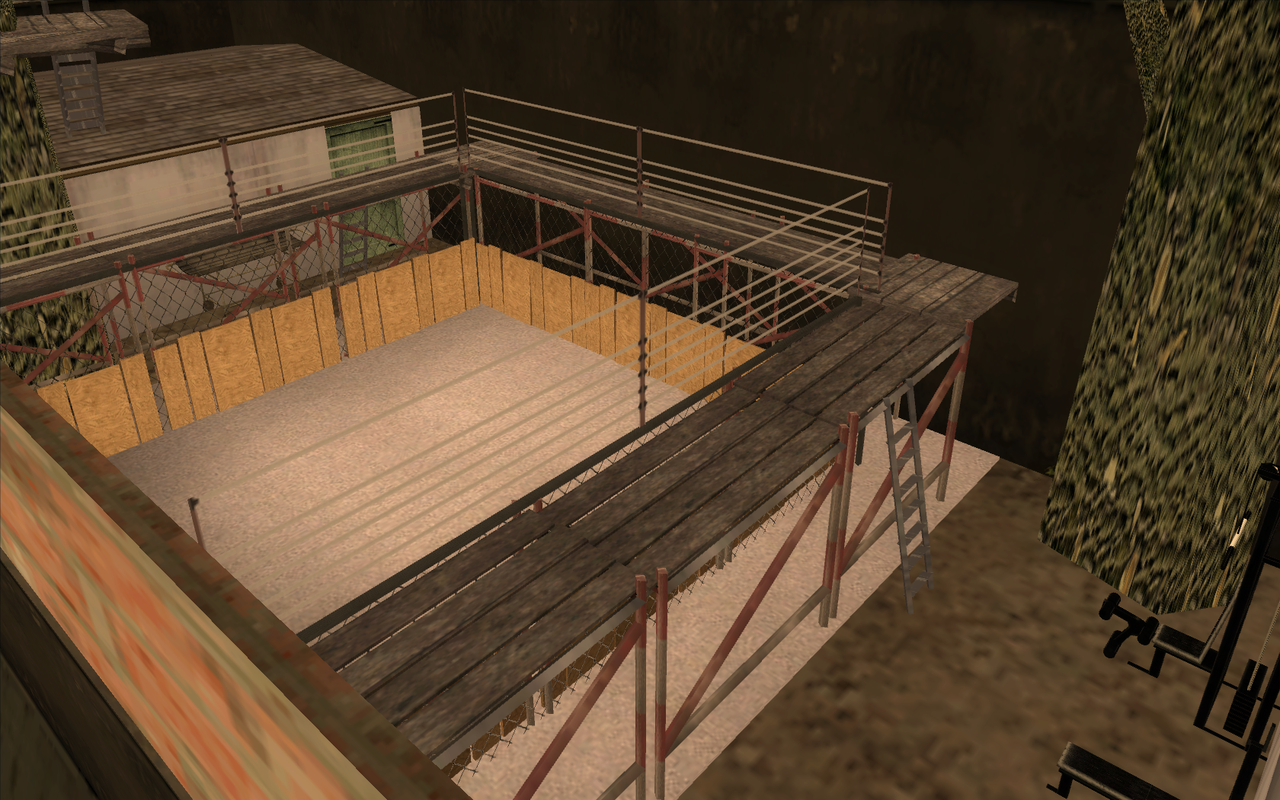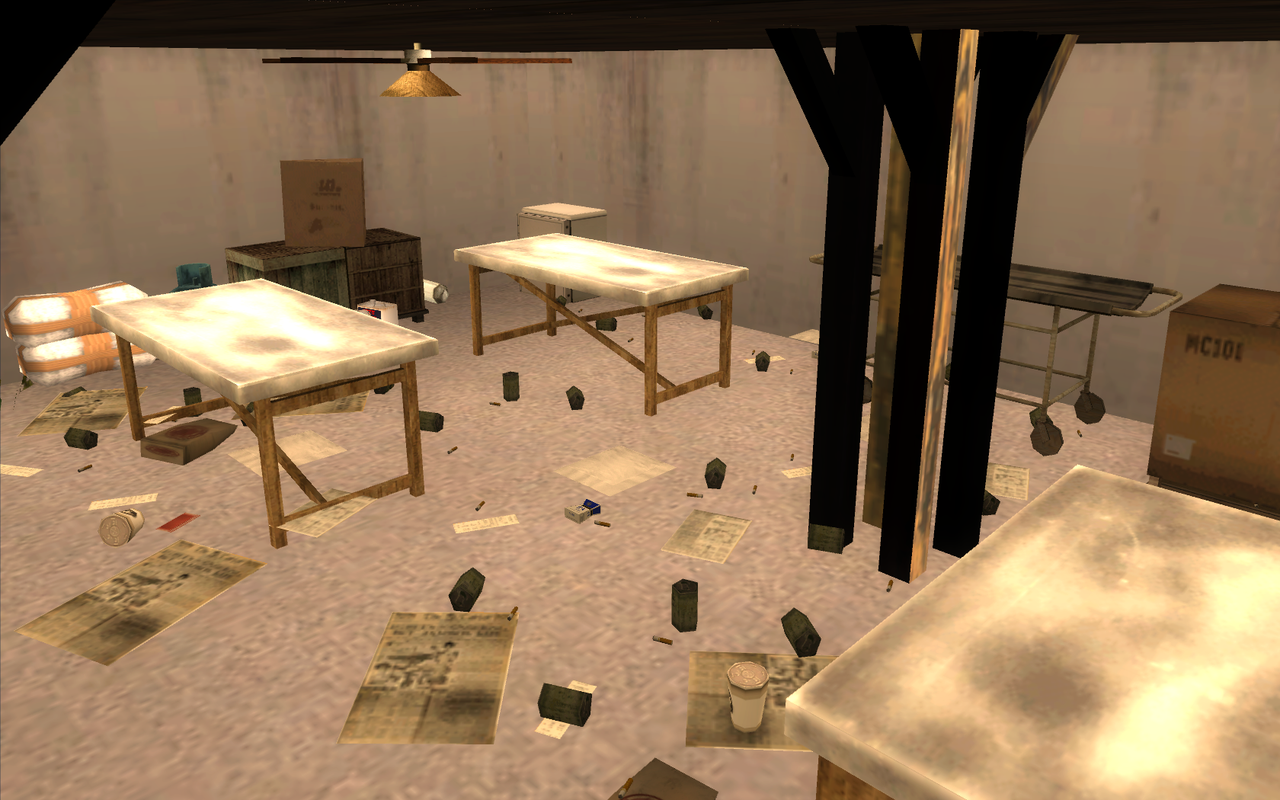 More pictures:
https://i.postimg.cc/TP1vPqt0/sa-mp-332.png
https://i.postimg.cc/YCbwkyzj/sa-mp-333.png
https://i.postimg.cc/FK65kdq4/sa-mp-335.png
https://i.postimg.cc/Gt0Wq0dg/sa-mp-338.png
https://i.postimg.cc/vZPCCxGV/sa-mp-342.png
https://i.postimg.cc/fyjrCJHk/sa-mp-343.png
https://i.postimg.cc/bYQWpBz8/sa-mp-344.png
https://i.postimg.cc/Zq225kBY/sa-mp-347.png
https://i.postimg.cc/qM4YRxRK/sa-mp-348.png
Code of Map:
Code:
//Map Exported with Texture Studio By: [uL]Pottus////////////////////////////////////////////////////////////////
//////////////////////////////////////////////and Crayder////////////////////////////////////////////////////////
/////////////////////////////////////////////////////////////////////////////////////////////////////////////////

//Map Information////////////////////////////////////////////////////////////////////////////////////////////////
/*
	Exported on "2019-02-01 10:46:05" by "Hayran"
	Created by "Hayran"
*/
/////////////////////////////////////////////////////////////////////////////////////////////////////////////////

//Objects////////////////////////////////////////////////////////////////////////////////////////////////////////
new tmpobjid;
tmpobjid = CreateObject(8229, 2102.799804, -1863.299804, 15.300000, 0.000000, 0.000000, 179.994995, 300.00); 
SetObjectMaterial(tmpobjid, 0, 10101, "2notherbuildsfe", "Bow_Abpave_Gen", 0x00000000);
SetObjectMaterial(tmpobjid, 1, 9514, "711_sfw", "brick", 0x00000000);
SetObjectMaterial(tmpobjid, 2, 9514, "711_sfw", "brick", 0x00000000);
SetObjectMaterial(tmpobjid, 3, 9514, "711_sfw", "brick", 0x00000000);
SetObjectMaterial(tmpobjid, 4, 10101, "2notherbuildsfe", "Bow_Abpave_Gen", 0x00000000);
SetObjectMaterial(tmpobjid, 5, 10101, "2notherbuildsfe", "Bow_Abpave_Gen", 0x00000000);
SetObjectMaterial(tmpobjid, 6, 10101, "2notherbuildsfe", "Bow_Abpave_Gen", 0x00000000);
SetObjectMaterial(tmpobjid, 7, 10101, "2notherbuildsfe", "sl_vicrfedge", 0x00000000);
tmpobjid = CreateObject(8229, 2124.799804, -1863.299804, 15.199998, 0.000000, 0.000000, 179.994995, 300.00); 
SetObjectMaterial(tmpobjid, 0, 10101, "2notherbuildsfe", "ferry_build14", 0x00000000);
SetObjectMaterial(tmpobjid, 1, 9514, "711_sfw", "brick", 0x00000000);
SetObjectMaterial(tmpobjid, 2, 9514, "711_sfw", "brick", 0x00000000);
SetObjectMaterial(tmpobjid, 3, 9514, "711_sfw", "brick", 0x00000000);
tmpobjid = CreateObject(8229, 2147.000000, -1863.300048, 15.100000, 0.000000, 0.000000, 179.994995, 300.00); 
SetObjectMaterial(tmpobjid, 0, 10101, "2notherbuildsfe", "ferry_build14", 0x00000000);
SetObjectMaterial(tmpobjid, 1, 9514, "711_sfw", "brick", 0x00000000);
SetObjectMaterial(tmpobjid, 2, 9514, "711_sfw", "brick", 0x00000000);
SetObjectMaterial(tmpobjid, 3, 9514, "711_sfw", "brick", 0x00000000);
SetObjectMaterial(tmpobjid, 4, 9514, "711_sfw", "brick", 0x00000000);
tmpobjid = CreateObject(8229, 2169.100097, -1863.300048, 15.100000, 0.000000, 0.000000, 179.994995, 300.00); 
SetObjectMaterial(tmpobjid, 0, 10101, "2notherbuildsfe", "ferry_build14", 0x00000000);
SetObjectMaterial(tmpobjid, 1, 9514, "711_sfw", "brick", 0x00000000);
SetObjectMaterial(tmpobjid, 2, 9514, "711_sfw", "brick", 0x00000000);
SetObjectMaterial(tmpobjid, 3, 9514, "711_sfw", "brick", 0x00000000);
SetObjectMaterial(tmpobjid, 4, 9514, "711_sfw", "brick", 0x00000000);
/////////////////////////////////////////////////////////////////////////////////////////////////////////////////
/////////////////////////////////////////////////////////////////////////////////////////////////////////////////
/////////////////////////////////////////////////////////////////////////////////////////////////////////////////
tmpobjid = CreateObject(2110, 2129.699951, -1868.599975, 14.199998, 0.000000, 0.000000, 270.000000, 300.00); 
tmpobjid = CreateObject(14820, 2129.699951, -1869.099975, 15.100000, 0.000000, 0.000000, 90.000000, 300.00); 
tmpobjid = CreateObject(2872, 2135.299804, -1871.399414, 14.199998, 0.000000, 0.000000, 268.747985, 300.00); 
tmpobjid = CreateObject(2615, 2135.804687, -1869.030273, 15.724280, 0.000000, 0.000000, 270.000000, 300.00); 
tmpobjid = CreateObject(2055, 2131.932617, -1869.380859, 15.702798, 0.000000, 0.000000, 90.000000, 300.00); 
tmpobjid = CreateObject(2104, 2131.699951, -1867.800048, 14.300000, 0.000000, 0.000000, 272.000000, 300.00); 
tmpobjid = CreateObject(2231, 2127.699951, -1866.199951, 15.899998, 0.000000, 0.000000, 270.242004, 300.00); 
tmpobjid = CreateObject(2231, 2127.699951, -1873.300048, 15.899998, 0.000000, 0.000000, 270.242004, 300.00); 
tmpobjid = CreateObject(2229, 2128.270507, -1866.643554, 14.255168, 0.000000, 0.000000, 287.996002, 300.00); 
tmpobjid = CreateObject(2229, 2127.699951, -1873.900024, 14.300000, 0.000000, 0.000000, 253.992996, 300.00); 
tmpobjid = CreateObject(2229, 2131.800048, -1871.300048, 14.199998, 0.000000, 0.000000, 266.989990, 300.00); 
tmpobjid = CreateObject(2229, 2131.800048, -1866.900024, 14.199998, 0.000000, 0.000000, 268.736999, 300.00); 
tmpobjid = CreateObject(17037, 2129.500000, -1869.500000, 16.799999, 0.000000, 0.000000, 179.735992, 300.00); 
tmpobjid = CreateObject(1464, 2147.588867, -1872.568359, 13.632478, 0.000000, 0.000000, 179.994995, 300.00); 
tmpobjid = CreateObject(1464, 2147.589599, -1872.569213, 11.357480, 0.000000, 0.000000, 179.994995, 300.00); 
tmpobjid = CreateObject(1464, 2144.888671, -1872.560546, 11.332468, 0.000000, 0.000000, 179.994995, 300.00); 
tmpobjid = CreateObject(1464, 2142.644531, -1872.562377, 11.307470, 0.000000, 0.000000, 179.994995, 300.00); 
tmpobjid = CreateObject(1464, 2144.884521, -1872.575317, 13.657480, 0.000000, 0.000000, 179.994995, 300.00); 
tmpobjid = CreateObject(1464, 2142.733154, -1872.554565, 13.632478, 0.000000, 0.000000, 179.994995, 300.00); 
tmpobjid = CreateObject(1464, 2140.726318, -1870.582275, 11.307470, 0.000000, 0.000000, 90.994003, 300.00); 
tmpobjid = CreateObject(1464, 2140.681640, -1867.748657, 11.307470, 0.000000, 0.000000, 90.988998, 300.00); 
tmpobjid = CreateObject(1464, 2140.625732, -1864.923828, 11.307470, 0.000000, 0.000000, 90.988998, 300.00); 
tmpobjid = CreateObject(1464, 2149.641357, -1867.624023, 11.482480, 0.000000, 0.000000, 90.236000, 300.00); 
tmpobjid = CreateObject(1464, 2149.644287, -1864.770507, 11.482480, 0.000000, 0.000000, 90.236000, 300.00); 
tmpobjid = CreateObject(1464, 2149.683349, -1870.423461, 11.457480, 0.000000, 0.000000, 90.236000, 300.00); 
tmpobjid = CreateObject(1464, 2149.579833, -1870.380004, 13.707509, 0.000000, 0.000000, 270.235992, 300.00); 
tmpobjid = CreateObject(1464, 2149.567382, -1867.523437, 13.707509, 0.000000, 0.000000, 270.230987, 300.00); 
tmpobjid = CreateObject(1464, 2149.544677, -1864.688476, 13.682510, 0.000000, 0.000000, 270.230987, 300.00); 
tmpobjid = CreateObject(1464, 2140.726318, -1870.582275, 13.607488, 0.000000, 0.000000, 90.988998, 300.00); 
tmpobjid = CreateObject(1464, 2140.690185, -1867.760864, 13.557490, 0.000000, 0.000000, 90.488998, 300.00); 
tmpobjid = CreateObject(1464, 2140.699951, -1864.900024, 13.600000, 0.000000, 0.000000, 90.477996, 300.00); 
tmpobjid = CreateObject(1428, 2131.199218, -1879.699218, 16.299999, 0.000000, 0.000000, 271.235992, 300.00); 
tmpobjid = CreateObject(1476, 2149.583007, -1872.511718, 12.055100, 0.000000, 0.000000, 0.000000, 300.00); 
tmpobjid = CreateObject(1476, 2140.722656, -1872.580078, 11.955108, 0.000000, 0.000000, 0.000000, 300.00); 
tmpobjid = CreateObject(1473, 2140.799804, -1872.699218, 14.699998, 334.697998, 0.000000, 180.000000, 300.00); 
tmpobjid = CreateObject(1428, 2150.700927, -1870.447387, 13.312430, 0.000000, 0.000000, 90.741996, 300.00); 
tmpobjid = CreateObject(1428, 2139.568359, -1870.124023, 13.162420, 0.000000, 0.000000, 271.240997, 300.00); 
tmpobjid = CreateObject(985, 2141.300048, -1867.699951, 10.500000, 0.000000, 0.000000, 90.000000, 300.00); 
tmpobjid = CreateObject(985, 2148.899902, -1867.699951, 10.500000, 0.000000, 0.000000, 90.000000, 300.00); 
tmpobjid = CreateObject(985, 2145.100097, -1871.900024, 10.500000, 0.000000, 0.000000, 0.000000, 300.00); 
tmpobjid = CreateObject(2691, 2131.600097, -1869.099975, 15.500000, 0.000000, 0.000000, 270.000000, 300.00); 
tmpobjid = CreateObject(2806, 2118.625000, -1875.841796, 13.444849, 0.000000, 0.000000, 286.743011, 300.00); 
tmpobjid = CreateObject(1481, 2121.899414, -1875.799804, 13.199998, 0.000000, 0.000000, 216.744003, 300.00); 
tmpobjid = CreateObject(2110, 2119.083984, -1875.835083, 12.568940, 0.000000, 0.000000, 177.750000, 300.00); 
tmpobjid = CreateObject(2229, 2119.522949, -1876.173706, 12.588838, 0.000000, 0.000000, 179.490997, 300.00); 
tmpobjid = CreateObject(1487, 2117.873046, -1875.979492, 13.564958, 0.000000, 0.000000, 356.747985, 300.00); 
tmpobjid = CreateObject(1664, 2117.930664, -1875.547851, 13.534210, 0.000000, 0.000000, 356.747985, 300.00); 
tmpobjid = CreateObject(933, 2121.599609, -1868.899414, 12.500000, 0.000000, 0.000000, 356.747985, 300.00); 
tmpobjid = CreateObject(933, 2118.709960, -1871.990234, 12.500000, 0.000000, 0.000000, 356.747985, 300.00); 
tmpobjid = CreateObject(933, 2118.899414, -1866.799804, 12.500000, 0.000000, 0.000000, 356.747985, 300.00); 
tmpobjid = CreateObject(2674, 2118.390625, -1869.754882, 12.605798, 0.000000, 0.000000, 356.747985, 300.00); 
tmpobjid = CreateObject(2674, 2121.336914, -1873.441406, 12.605798, 0.000000, 0.000000, 356.747985, 300.00); 
tmpobjid = CreateObject(2674, 2122.508789, -1870.536132, 12.580800, 0.000000, 0.000000, 356.747985, 300.00); 
tmpobjid = CreateObject(2673, 2122.459960, -1865.543945, 12.770770, 0.000000, 0.000000, 356.747985, 300.00); 
tmpobjid = CreateObject(1665, 2119.086914, -1871.632812, 13.524140, 0.000000, 0.000000, 356.747985, 300.00); 
tmpobjid = CreateObject(1670, 2121.451171, -1869.431640, 13.513689, 0.000000, 0.000000, 356.747985, 300.00); 
tmpobjid = CreateObject(1670, 2118.733398, -1867.208007, 13.513689, 0.000000, 0.000000, 356.747985, 300.00); 
tmpobjid = CreateObject(1810, 2119.485351, -1870.789062, 12.557350, 0.000000, 0.000000, 326.739013, 300.00); 
tmpobjid = CreateObject(1810, 2118.577148, -1868.702148, 12.557350, 0.000000, 0.000000, 186.740005, 300.00); 
tmpobjid = CreateObject(1810, 2121.560546, -1870.900390, 12.532348, 0.000000, 0.000000, 186.735000, 300.00); 
tmpobjid = CreateObject(1810, 2121.843750, -1866.845703, 12.532348, 0.000000, 0.000000, 6.739998, 300.00); 
tmpobjid = CreateObject(1810, 2117.299804, -1866.899414, 12.500000, 0.000000, 0.000000, 96.735000, 300.00); 
tmpobjid = CreateObject(1780, 2116.299804, -1876.000000, 13.500000, 0.000000, 0.000000, 179.242004, 300.00); 
tmpobjid = CreateObject(3221, 2120.073242, -1876.583984, 12.515000, 0.000000, 0.000000, 356.747985, 300.00); 
tmpobjid = CreateObject(1810, 2117.299804, -1871.399414, 12.600000, 0.000000, 0.000000, 66.741996, 300.00); 
tmpobjid = CreateObject(3594, 2109.899414, -1871.899414, 12.899998, 0.000000, 0.000000, 21.995000, 300.00); 
tmpobjid = CreateObject(1728, 2114.500000, -1875.799804, 12.500000, 0.000000, 0.000000, 179.994995, 300.00); 
tmpobjid = CreateObject(941, 2155.000000, -1867.199218, 13.000000, 0.000000, 0.000000, 270.000000, 300.00); 
tmpobjid = CreateObject(941, 2157.899902, -1867.300048, 13.000000, 0.000000, 0.000000, 270.000000, 300.00); 
tmpobjid = CreateObject(936, 2155.199951, -1872.699951, 13.100000, 0.000000, 0.000000, 179.994995, 300.00); 
tmpobjid = CreateObject(1421, 2156.989257, -1864.690429, 13.350000, 0.000000, 0.000000, 178.494995, 300.00); 
tmpobjid = CreateObject(2673, 2156.958007, -1870.571289, 12.773368, 0.000000, 0.000000, 270.000000, 300.00); 
tmpobjid = CreateObject(2673, 2155.100097, -1870.599975, 12.800000, 0.000000, 0.000000, 270.000000, 300.00); 
tmpobjid = CreateObject(2673, 2156.399414, -1867.699218, 12.800000, 0.000000, 0.000000, 270.000000, 300.00); 
tmpobjid = CreateObject(2673, 2158.959960, -1869.427734, 12.773368, 0.000000, 0.000000, 270.000000, 300.00); 
tmpobjid = CreateObject(2673, 2159.233398, -1871.648437, 12.773368, 0.000000, 0.000000, 270.000000, 300.00); 
tmpobjid = CreateObject(2673, 2159.081054, -1866.688476, 12.773368, 0.000000, 0.000000, 270.000000, 300.00); 
tmpobjid = CreateObject(2673, 2154.699951, -1866.000000, 12.699998, 0.000000, 0.000000, 270.000000, 300.00); 
tmpobjid = CreateObject(2674, 2155.931640, -1869.585937, 12.721730, 0.000000, 0.000000, 270.000000, 300.00); 
tmpobjid = CreateObject(2674, 2159.391601, -1868.901367, 12.721730, 0.000000, 0.000000, 270.000000, 300.00); 
tmpobjid = CreateObject(918, 2155.699951, -1864.599975, 12.949998, 0.000000, 0.000000, 270.000000, 300.00); 
tmpobjid = CreateObject(1558, 2159.000000, -1872.300048, 13.199998, 0.000000, 0.000000, 270.000000, 300.00); 
tmpobjid = CreateObject(1279, 2154.800048, -1864.599975, 12.699998, 0.000000, 0.000000, 179.994995, 300.00); 
tmpobjid = CreateObject(1279, 2154.759765, -1864.584960, 12.981860, 0.000000, 0.000000, 179.994995, 300.00); 
tmpobjid = CreateObject(1578, 2153.841796, -1864.933593, 12.902388, 0.000000, 0.000000, 270.000000, 300.00); 
tmpobjid = CreateObject(1577, 2153.353515, -1864.926757, 12.902388, 0.000000, 0.000000, 270.000000, 300.00); 
tmpobjid = CreateObject(1580, 2153.841796, -1864.923828, 13.047900, 0.000000, 0.000000, 270.000000, 300.00); 
tmpobjid = CreateObject(1576, 2153.343261, -1864.897827, 13.032030, 0.000000, 0.000000, 270.000000, 300.00); 
tmpobjid = CreateObject(2057, 2156.899902, -1865.400024, 12.750000, 0.000000, 0.000000, 202.483993, 300.00); 
tmpobjid = CreateObject(2902, 2158.032226, -1864.409179, 12.797168, 0.000000, 0.000000, 270.000000, 300.00); 
tmpobjid = CreateObject(2674, 2158.000000, -1870.300048, 12.600000, 0.000000, 0.000000, 270.000000, 300.00); 
tmpobjid = CreateObject(2676, 2154.500000, -1871.599975, 12.699998, 0.000000, 0.000000, 256.250000, 300.00); 
tmpobjid = CreateObject(1577, 2153.853515, -1864.954101, 12.752248, 0.000000, 0.000000, 270.000000, 300.00); 
tmpobjid = CreateObject(1580, 2153.366210, -1864.934570, 12.747610, 0.000000, 0.000000, 270.000000, 300.00); 
tmpobjid = CreateObject(2676, 2154.714843, -1867.255859, 12.803270, 0.000000, 0.000000, 270.000000, 300.00); 
tmpobjid = CreateObject(2332, 2159.600097, -1865.199951, 13.000000, 0.000000, 0.000000, 270.000000, 300.00); 
tmpobjid = CreateObject(17037, 2154.699218, -1867.199218, 15.000000, 0.000000, 0.000000, 179.994995, 300.00); 
tmpobjid = CreateObject(17037, 2159.189941, -1867.300048, 15.000000, 0.000000, 0.000000, 0.000000, 300.00); 
tmpobjid = CreateObject(17037, 2154.699951, -1874.699951, 15.000000, 0.000000, 0.000000, 180.000000, 300.00); 
tmpobjid = CreateObject(17037, 2159.189941, -1874.800048, 15.000000, 0.000000, 0.000000, 0.000000, 300.00); 
tmpobjid = CreateObject(708, 2108.599609, -1875.099609, 12.100000, 0.000000, 0.000000, 15.491000, 300.00); 
tmpobjid = CreateObject(969, 2091.899414, -1873.799804, 11.800000, 0.000000, 0.000000, 90.000000, 300.00); 
tmpobjid = CreateObject(1492, 2091.899414, -1865.199218, 12.399998, 0.000000, 0.000000, 90.000000, 300.00); 
tmpobjid = CreateObject(16637, 2092.500000, -1867.000000, 13.500000, 0.000000, 339.998992, 0.000000, 300.00); 
tmpobjid = CreateObject(1492, 2152.500000, -1872.699951, 12.500000, 0.000000, 0.000000, 90.000000, 300.00); 
tmpobjid = CreateObject(946, 2113.000000, -1864.300048, 14.720000, 0.000000, 0.000000, 180.000000, 300.00); 
tmpobjid = CreateObject(8229, 2131.299804, -1883.799804, 16.399999, 0.000000, 0.000000, 179.994995, 300.00); 
tmpobjid = CreateObject(1439, 2098.299804, -1864.099609, 12.500000, 0.000000, 0.000000, 0.000000, 300.00); 
tmpobjid = CreateObject(1450, 2101.199951, -1864.199951, 13.000000, 0.000000, 0.000000, 0.000000, 300.00); 
tmpobjid = CreateObject(5153, 2129.600097, -1866.599975, 14.097998, 359.769012, 23.236000, 179.841003, 300.00); 
tmpobjid = CreateObject(1797, 2133.399902, -1869.099975, 14.199998, 0.000000, 0.000000, 0.000000, 300.00); 
tmpobjid = CreateObject(1829, 2132.399902, -1866.300048, 14.699998, 0.000000, 0.000000, 0.000000, 300.00); 
tmpobjid = CreateObject(2146, 2159.100097, -1870.400024, 13.100000, 0.000000, 0.000000, 0.000000, 300.00); 
tmpobjid = CreateObject(2146, 2152.000000, -1869.099975, 13.000000, 0.000000, 0.000000, 0.000000, 300.00); 
tmpobjid = CreateObject(1492, 2131.799804, -1873.099609, 14.000000, 0.000000, 0.000000, 90.000000, 300.00); 
tmpobjid = CreateObject(2190, 2132.699951, -1865.699951, 15.199998, 0.000000, 0.000000, 0.000000, 300.00); 
tmpobjid = CreateObject(2596, 2133.899902, -1873.000000, 15.899998, 0.000000, 0.000000, 178.500000, 300.00); 
tmpobjid = CreateObject(2628, 2136.899902, -1870.699951, 12.500000, 0.000000, 0.000000, 90.000000, 300.00); 
tmpobjid = CreateObject(2629, 2136.800048, -1868.800048, 12.500000, 0.000000, 0.000000, 92.000000, 300.00); 
tmpobjid = CreateObject(2815, 2133.500000, -1870.699951, 14.300000, 0.000000, 0.000000, 0.000000, 300.00); 
tmpobjid = CreateObject(949, 2135.399902, -1867.199951, 14.899998, 0.000000, 0.000000, 0.000000, 300.00); 
tmpobjid = CreateObject(2255, 2133.899902, -1866.099975, 15.899998, 0.000000, 0.000000, 0.000000, 300.00); 
tmpobjid = CreateObject(19360, 2129.000000, -1867.000000, 14.199998, 0.000000, 90.000000, 0.000000, 300.00); 
tmpobjid = CreateObject(19398, 2131.799804, -1872.399414, 15.699998, 0.000000, 0.000000, 0.000000, 300.00); 
tmpobjid = CreateObject(19371, 2131.799804, -1869.299804, 15.699998, 0.000000, 0.000000, 0.000000, 300.00); 
tmpobjid = CreateObject(19360, 2129.000000, -1870.199951, 14.199998, 0.000000, 90.000000, 0.000000, 300.00); 
tmpobjid = CreateObject(19360, 2129.000000, -1872.799804, 14.199797, 0.000000, 90.000000, 0.000000, 300.00); 
tmpobjid = CreateObject(19360, 2132.500000, -1867.000000, 14.199998, 0.000000, 90.000000, 0.000000, 300.00); 
tmpobjid = CreateObject(19360, 2134.399902, -1867.000000, 14.199798, 0.000000, 90.000000, 0.000000, 300.00); 
tmpobjid = CreateObject(19360, 2134.399902, -1870.199951, 14.199798, 0.000000, 90.000000, 0.000000, 300.00); 
tmpobjid = CreateObject(19360, 2132.500000, -1870.199951, 14.199998, 0.000000, 90.000000, 0.000000, 300.00); 
tmpobjid = CreateObject(19360, 2132.199951, -1872.800048, 14.198801, 0.000000, 90.000000, 0.000000, 300.00); 
tmpobjid = CreateObject(19360, 2134.399414, -1872.799804, 14.197997, 0.000000, 90.000000, 0.000000, 300.00); 
tmpobjid = CreateObject(19371, 2131.803710, -1867.000000, 15.699998, 0.000000, 0.000000, 0.000000, 300.00); 
tmpobjid = CreateObject(19371, 2133.299804, -1865.481445, 15.699998, 0.000000, 0.000000, 270.000000, 300.00); 
tmpobjid = CreateObject(19371, 2136.069335, -1866.999023, 15.699998, 0.000000, 0.000000, 180.000000, 300.00); 
tmpobjid = CreateObject(19371, 2136.069335, -1870.199218, 15.699998, 0.000000, 0.000000, 180.000000, 300.00); 
tmpobjid = CreateObject(19371, 2136.069335, -1873.400024, 15.699998, 0.000000, 0.000000, 180.000000, 300.00); 
tmpobjid = CreateObject(19371, 2133.500000, -1873.399047, 15.699997, 0.000000, 0.000000, 90.000000, 300.00); 
tmpobjid = CreateObject(19371, 2134.500000, -1873.400024, 15.699998, 0.000000, 0.000000, 90.000000, 300.00); 
tmpobjid = CreateObject(19444, 2135.299804, -1865.482421, 15.699998, 0.000000, 0.000000, 90.000000, 300.00); 
tmpobjid = CreateObject(19371, 2127.300048, -1872.699951, 12.536000, 0.000000, 0.000000, 0.000000, 300.00); 
tmpobjid = CreateObject(19371, 2127.300048, -1869.500000, 12.536000, 0.000000, 0.000000, 0.000000, 300.00); 
tmpobjid = CreateObject(19371, 2127.304931, -1867.000000, 12.536000, 0.000000, 0.000000, 0.000000, 300.00); 
tmpobjid = CreateObject(19360, 2131.300048, -1876.000000, 14.199998, 0.000000, 90.000000, 0.000000, 300.00); 
tmpobjid = CreateObject(19360, 2128.000000, -1876.099975, 13.500000, 0.000000, 67.000000, 0.000000, 300.00); 
tmpobjid = CreateObject(19360, 2125.199951, -1876.099975, 12.300000, 0.000000, 66.498001, 0.000000, 300.00); 
tmpobjid = CreateObject(19371, 2128.799804, -1874.399414, 12.536000, 0.000000, 0.000000, 90.000000, 300.00); 
tmpobjid = CreateObject(19371, 2128.850097, -1865.481445, 12.536000, 0.000000, 0.000000, 270.000000, 300.00); 
tmpobjid = CreateObject(19444, 2135.299804, -1865.482421, 12.199998, 0.000000, 0.000000, 90.000000, 300.00); 
tmpobjid = CreateObject(19371, 2133.299804, -1865.481445, 12.199998, 0.000000, 0.000000, 270.000000, 300.00); 
tmpobjid = CreateObject(19444, 2131.199951, -1865.477050, 12.536000, 0.000000, 0.000000, 90.000000, 300.00); 
tmpobjid = CreateObject(19371, 2136.069335, -1867.000000, 12.199998, 0.000000, 0.000000, 180.000000, 300.00); 
tmpobjid = CreateObject(19371, 2136.069335, -1870.199951, 12.199998, 0.000000, 0.000000, 180.000000, 300.00); 
tmpobjid = CreateObject(19371, 2136.069335, -1873.400024, 12.199998, 0.000000, 0.000000, 180.000000, 300.00); 
tmpobjid = CreateObject(19360, 2133.500000, -1867.000000, 17.399499, 0.000000, 90.000000, 0.000000, 300.00); 
tmpobjid = CreateObject(19360, 2133.500000, -1870.199951, 17.399499, 0.000000, 90.000000, 0.000000, 300.00); 
tmpobjid = CreateObject(19360, 2133.500000, -1873.400024, 17.399499, 0.000000, 90.000000, 0.000000, 300.00); 
tmpobjid = CreateObject(19360, 2134.399902, -1867.000000, 17.399900, 0.000000, 90.000000, 0.000000, 300.00); 
tmpobjid = CreateObject(19360, 2134.399902, -1870.199951, 17.399900, 0.000000, 90.000000, 0.000000, 300.00); 
tmpobjid = CreateObject(19360, 2134.399902, -1873.400024, 17.399999, 0.000000, 90.000000, 0.000000, 300.00); 
tmpobjid = CreateObject(19377, 2145.100097, -1868.500000, 12.500000, 0.000000, 90.000000, 0.000000, 300.00); 
tmpobjid = CreateObject(19371, 2142.899902, -1863.699951, 13.600000, 0.000000, 0.000000, 89.995002, 300.00); 
tmpobjid = CreateObject(19371, 2146.100097, -1863.699951, 13.600000, 0.000000, 0.000000, 89.995002, 300.00); 
tmpobjid = CreateObject(19444, 2148.000000, -1863.699951, 13.600000, 0.000000, 0.000000, 90.000000, 300.00); 
tmpobjid = CreateObject(17969, 2145.100097, -1863.900024, 13.899998, 0.000000, 0.000000, 90.000000, 300.00); 
tmpobjid = CreateObject(1473, 2149.600097, -1872.500000, 14.699998, 334.692993, 0.000000, 180.000000, 300.00); 
tmpobjid = CreateObject(19377, 2119.899414, -1869.399414, 12.500000, 0.000000, 90.000000, 0.000000, 300.00); 
tmpobjid = CreateObject(19371, 2152.500000, -1869.599975, 13.300000, 0.000000, 0.000000, 180.000000, 300.00); 
tmpobjid = CreateObject(19371, 2152.500000, -1874.300048, 13.300000, 0.000000, 0.000000, 180.000000, 300.00); 
tmpobjid = CreateObject(19371, 2152.500000, -1866.400024, 13.300000, 0.000000, 0.000000, 180.000000, 300.00); 
tmpobjid = CreateObject(19371, 2154.100097, -1864.199951, 13.300000, 0.000000, 0.000000, 90.000000, 300.00); 
tmpobjid = CreateObject(19371, 2157.300048, -1864.199951, 13.300000, 0.000000, 0.000000, 90.000000, 300.00); 
tmpobjid = CreateObject(19371, 2160.500000, -1864.199951, 13.300000, 0.000000, 0.000000, 90.000000, 300.00); 
tmpobjid = CreateObject(19371, 2160.000000, -1865.900024, 13.300000, 0.000000, 0.000000, 0.000000, 300.00); 
tmpobjid = CreateObject(19371, 2160.000000, -1869.099975, 13.300000, 0.000000, 0.000000, 0.000000, 300.00); 
tmpobjid = CreateObject(19371, 2160.000000, -1872.300048, 13.300000, 0.000000, 0.000000, 0.000000, 300.00); 
tmpobjid = CreateObject(19377, 2157.699951, -1869.000000, 12.500000, 0.000000, 90.000000, 0.000000, 300.00); 
tmpobjid = CreateObject(19371, 2154.199951, -1873.400024, 13.300000, 0.000000, 0.000000, 270.000000, 300.00); 
tmpobjid = CreateObject(19371, 2157.399902, -1873.400024, 13.300000, 0.000000, 0.000000, 270.000000, 300.00); 
tmpobjid = CreateObject(19371, 2160.600097, -1873.400024, 13.300000, 0.000000, 0.000000, 270.000000, 300.00); 
tmpobjid = CreateObject(19444, 2152.510009, -1864.099975, 13.300000, 0.000000, 0.000000, 180.000000, 300.00); 
tmpobjid = CreateObject(1578, 2153.841796, -1864.900024, 12.600000, 0.000000, 0.000000, 270.000000, 300.00); 
tmpobjid = CreateObject(1578, 2153.353515, -1864.934570, 12.600000, 0.000000, 0.000000, 270.000000, 300.00); 
tmpobjid = CreateObject(16779, 2156.399902, -1867.400024, 15.500000, 0.000000, 0.000000, 0.000000, 300.00); 
tmpobjid = CreateObject(708, 2137.800048, -1872.400024, 10.000000, 0.000000, 0.000000, 285.484985, 300.00); 
tmpobjid = CreateObject(708, 2151.300048, -1865.699951, 10.399998, 0.000000, 0.000000, 103.490997, 300.00); 
tmpobjid = CreateObject(1473, 2150.100097, -1864.900024, 17.200000, 334.692993, 0.000000, 139.994995, 300.00); 
tmpobjid = CreateObject(1473, 2151.300048, -1864.199951, 14.699998, 334.692993, 0.000000, 89.995002, 300.00); 
tmpobjid = CreateObject(1473, 2149.899902, -1866.000000, 17.200000, 334.692993, 0.000000, 196.494995, 300.00); 
tmpobjid = CreateObject(1473, 2150.699951, -1866.800048, 17.200000, 334.692993, 0.000000, 256.489990, 300.00); 
tmpobjid = CreateObject(1428, 2152.600097, -1867.300048, 16.399999, 330.000000, 0.000000, 76.741996, 300.00); 
tmpobjid = CreateObject(1810, 2149.800048, -1865.699951, 17.299999, 0.000000, 0.000000, 302.742004, 300.00); 
tmpobjid = CreateObject(1473, 2151.600097, -1864.199951, 14.699998, 334.692993, 0.000000, 89.995002, 300.00); 
tmpobjid = CreateObject(1492, 2131.821044, -1865.199951, 12.600000, 0.000000, 0.000000, 90.000000, 300.00); 
tmpobjid = CreateObject(19444, 2131.840087, -1865.199951, 15.899998, 90.000000, 180.000000, 0.000000, 300.00); 
tmpobjid = CreateObject(19444, 2131.840087, -1865.900024, 13.352000, 0.000000, 0.000000, 0.000000, 300.00); 
tmpobjid = CreateObject(1728, 2106.199951, -1864.099975, 12.500000, 0.000000, 0.000000, 359.994995, 300.00); 
tmpobjid = CreateObject(19371, 2127.100097, -1874.500000, 11.300000, 337.250000, 0.000000, 90.000000, 300.00);